HTTP virtual service architecture
Add/Edit HTTP mappings
Usage
First, go to HTTP in the top navigation bar and then click Add/Edit.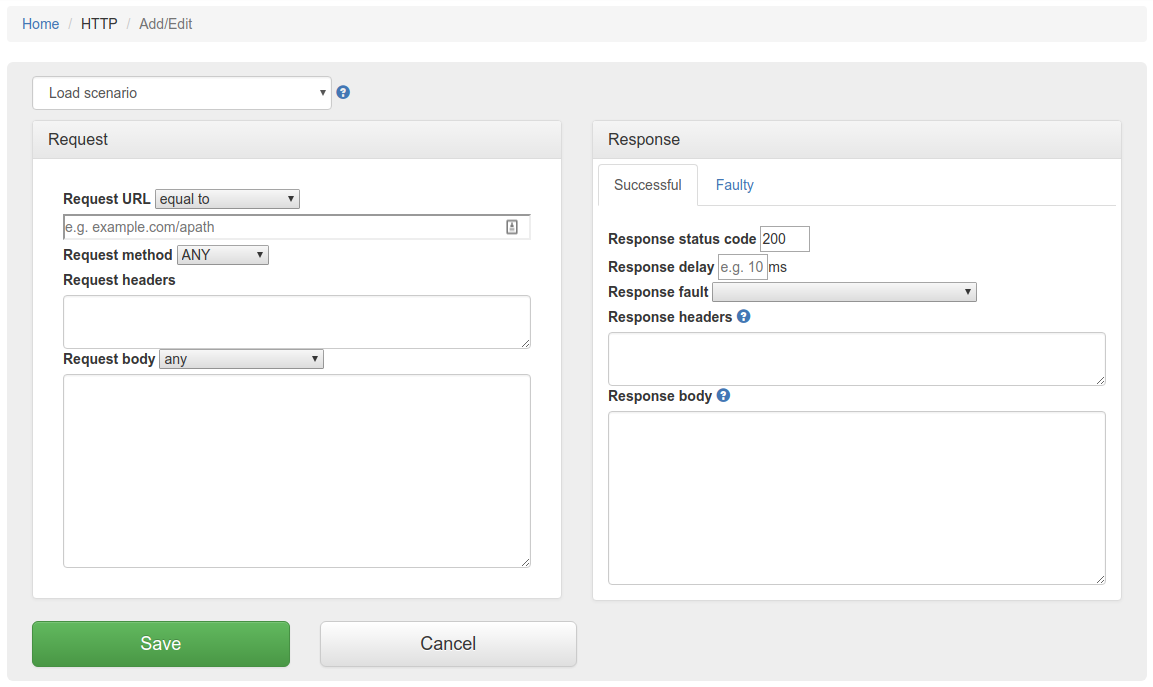 Fill in the Request/Response fields and click Save to configure a mapping.
You can also select from the scenario dropdown which will populate the Request/Response fields for that scenario.
After saving the mapping, it will appear in the list of mappings.

Clicking the edit button

will allow you to edit an existing mapping.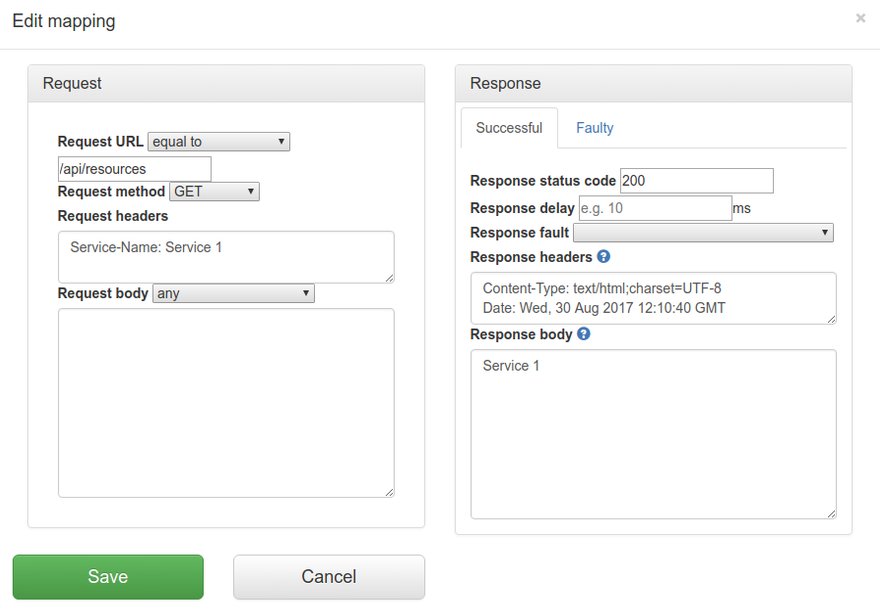 Configuring scenarios
In order to edit the list of elements on the scenarios dropdown on the Add/Edit page please open and edit file trafficparrot-x.y.z/scenarios.js and using the samples provided in the file add your new entries and remove the existing ones.
Valid values of
request-url-matcher
:
urlEqualTo
urlMatching
urlPathEqualTo
urlPathMatching
Valid values of request-url: any valid URL.
Valid values of
request-method
:
ANY
GET
POST
PUT
HEAD
OPTIONS
DELETE
CONNECT
TRACE
Valid values of request-headers: new line separated list of header keys and values, for example 'Accept-Encoding: gzip, deflate, sdch, Upgrade-Insecure-Requests: 1'.
Valid values of
request-body-matcher
:
any
equalTo
contains
matches
doesNotMatch
equalToJson
matchesJson
matchesJsonPath
equalToXml
matchesXPath
matchesXml (for SOAP and other XML requests)
Valid values of request-body: any request body.
Valid values of response-delay: any positive integer value.
Valid values of
response-fault
:
CLOSE_CONNECTION_AFTER_HALF_RESPONSE
DRIP_BYTE_EVERY_100ms
DRIP_BYTE_EVERY_1s
DRIP_BYTE_EVERY_10s
Valid values of response-headers: new line separated list of header keys and values, for example 'Content-Type:text/javascript; charset=UTF-8, Etag: "234762534726"'.
Valid values of response-body: any response body.
SOAP
Record SOAP and generate dynamic responses
Traffic Parrot helps with SOAP and XML mocking by providing an XML editor, the matchesXMLrequest body matcher and dynamic response helpers such as xPath and xPathList.
Please see the video below for a full demo of recording SOAP requests and responses, and then generating dynamic responses.
Please download Traffic Parrot and the sample UV Index SOAP application and follow the demo in the video below.
Recording HTTP
Usage
First, navigate to the recording page by clicking HTTP in the top navigation bar and then click Record.
In order to record traffic to a URL, simply enter the Recording URL and click Start recording.

All traffic received by the Traffic Parrot virtual service will be proxied to the host in the Recording URL and recorded as Mappings.

Clicking the edit button

will allow you to edit the recorded mapping.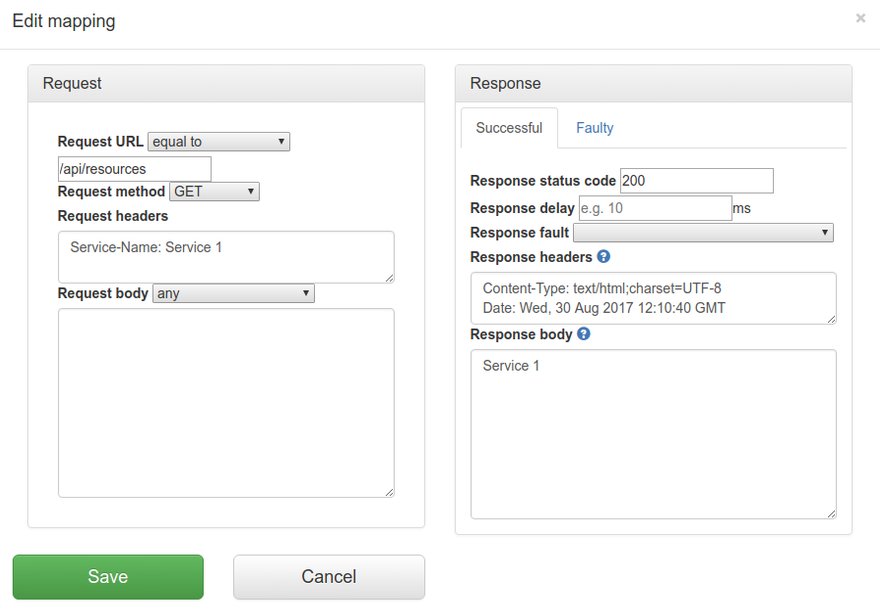 Filter by URL path
If the Recording URL includes a path, only traffic to this path will be recorded, however all traffic will still be proxied.
For example, if the Recording URL is set to http://example.com/aSampleResource then only traffic to paths staring with /aSampleResource will be recorded and all other traffic will be proxied to http://example.com.
Filter by Content-Type
In order to record only specified content types go to trafficparrot.properties file and change the value of the property:
trafficparrot.virtualservice.recordOnlyContentTypesContaining=TP_RECORD_ALL_CONTENT_TYPES
to include content types you would like to record, for example:
trafficparrot.virtualservice.recordOnlyContentTypesContaining=application/javascript,application/xml
Virtualizing identical URLs
When using Traffic Parrot to virtualize multiple HTTP services at the same time, you may encounter namespace issues if the services have name clashes in the context path.
For example, you may have two services that both have a GET /api/resources endpoint, and one might be hosted at http://service1/api/resources and the other at http://service2/api/resources.
The Traffic Parrot virtual service http://localhost:8081/api/resources would have two mappings associated with it.
There are a number of ways to deal with this situation, one of which is detailed below.
HTTP Proxy
To use Traffic Parrot as a HTTP proxy you need to install the Traffic Parrot CA certificate in your system.
Install CA certificate on a Mac
Download the (right click and "Save as") virtual service CA certificate
Open "Keychain Access" application on your Mac
Click "File" -> "Add Keychain"
Locate and choose virtualservice-CA-certificate.pem you have just downloaded
Navigate to "System" and find "Traffic Parrot" on the list
Double click "Traffic Parrot"
Expand "Trust" and choose "Always trust" like on the image below and then close all windws and Keychain application for the changes to take effect.
Install CA certificate on a Genymotion android
Download the (right click and "Save as") virtual service CA certificate
Drag and drop the file virtualservice-CA-certificate.pem to the running Genymotion simulator android window
You should see a message that the file has been saved to "sdcard/Downloads"
Follow the google "Install the certificate" instructions.

When asked to browse for the certificate file go to "Internal storage"->"Downloads".
When asked for a name type "TrafficParrotCA"
Proof of concept with on-premises installation at a large enterprise
Old version warning!
This documentation is for an old version of Traffic Parrot. There is a more recent Traffic Parrot version available for download at trafficparrot.com