Java object messages
If the bytes of a javax.jms.BytesMessage are found to contain a single java.io.Serializable object that Traffic Parrot is able to deserialize, it will be displayed as a JSON object in the user interface.
The request and response body can be edited as if they were a JSON body. You are free to change the JSON as you wish, so long as the edits are compatible with the underlying Java class that the JSON represents.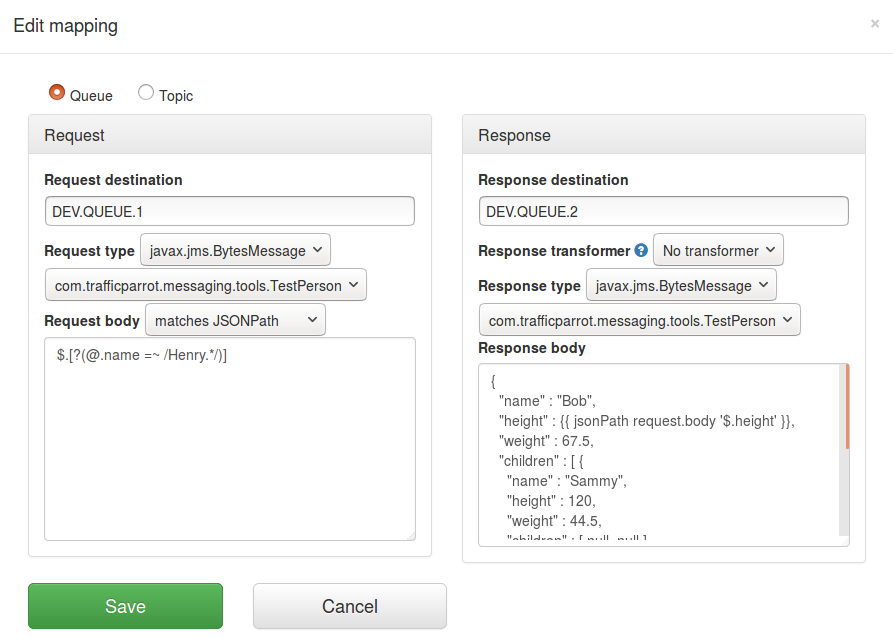 Supported features
Edit objects without requiring additional JAR files or agents
Edit response object values
Edit response object structure (e.g. delete fields, add items to list, add nested fields)
Use helpers in the response body
Use parts of the request object in the response object by extracting with JsonPath
Match request objects using the request body matchers (e.g. JsonPath, contains, regexp) on the JSON representation of the object
Use priority to set up a preference order for matching mappings
Dynamic object serialization
By default, Traffic Parrot will use dynamic object serialization to support objects of any class that it is able to understand, including objects that are not on the classpath.
Unlike other tools, we do not require additional JAR files or agents to be installed in order to record, edit and replay object messages.
Standard object serialization
To improve compatibility (and support special handling during the serialization), you can choose to use standard Java object serialization by adding your classes to the Traffic Parrot classpath.
See the notes for developers for instructions on how to do this.
Notes for testers
If you are having trouble with this functionality, please ask the developers on your team to review the notes for developers below.
Please contact us if you require any additional help for your particular configuration.
Notes for developers
In order to deserialize a serialized Java object using standard Java object serialization, the Java class of that object and the classes of all of its fields must be on the Traffic Parrot classpath. Copy the JAR files containing those classes to trafficparrot-x.y.z/lib/external and restart Traffic Parrot.
In order to represent the object as JSON and allow editing, the class must have a public zero argument constructor.
Please contact us if you require any additional help for your particular configuration.