A request to response mapping defines which response to return given a request. For example, in HTTP, you could say:

For any request to URL '/hello' that is a GET request return a response with body 'Hello World!'
The way you do that in Traffic Parrot is by using the user interface to record mappings, import them or add them manually.
Here is an example HTTP request to response mapping viewed in Traffic Parrot web user interface: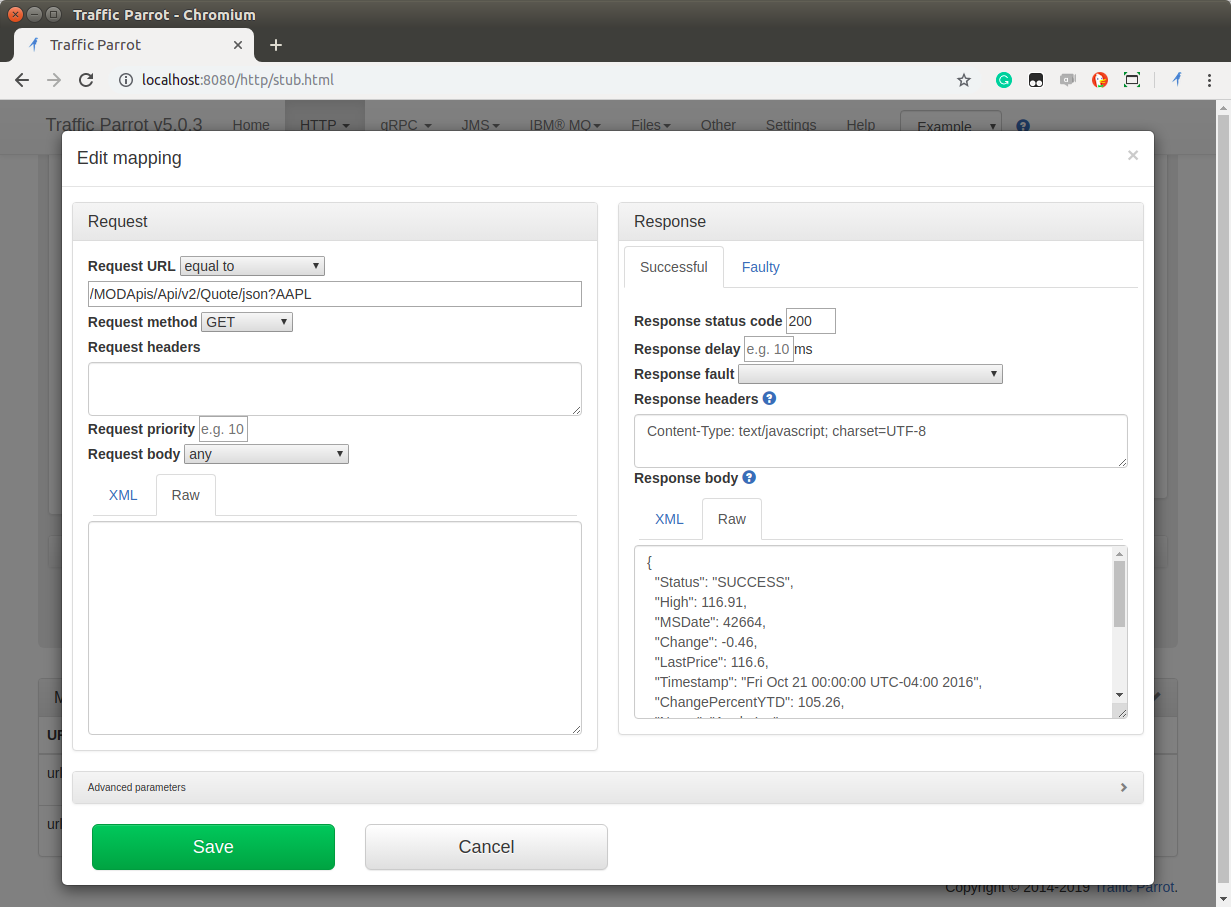 All of the mappings Traffic Parrot has access to are stored on the filesystem in JSON files. Here is the same mapping you just saw above in the web user interface but now in JSON formad stored in
trafficparrot-enterprise-x.y.z/mappings
folder on the disk:
{
  "id" : "a6263f39-5826-48a5-a409-4d78037c303e",
  "request" : {
    "url" : "/MODApis/Api/v2/Quote/json?AAPL",
    "method" : "GET"
  },
  "response" : {
    "status" : 200,
    "body" : "{\r\n  \"Status\": \"SUCCESS\",\r\n  \"High\": 116.91,\r\n  \"MSDate\": 42664,\r\n  \"Change\": -0.46,\r\n  \"LastPrice\": 116.6,\r\n  \"Timestamp\": \"Fri Oct 21 00:00:00 UTC-04:00 2016\",\r\n  \"ChangePercentYTD\": 105.26,\r\n  \"Name\": \"Apple Inc\",\r\n  \"Open\": 116.81,\r\n  \"Volume\": 23192665,\r\n  \"Low\": 116.28,\r\n  \"ChangeYTD\": 105.26,\r\n  \"ChangePercent\": -0.3929608748,\r\n  \"MarketCap\": 628292453800\r\n}",
    "headers" : {
      "Content-Type" : "text/javascript; charset=UTF-8"
    }
  },
  "uuid" : "a6263f39-5826-48a5-a409-4d78037c303e"
}